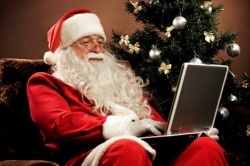 We've seen online website shopping start earlier in the holiday season the last few years, and consumers have become much more active on Mobile devices. While
Cyber Monday
was the biggest online shopping day in 2015, according to same-store sales data, consumers were more active on Thanksgiving than past years.
Studies show this year retailers are being proactive by offering up more promotions, boosting ad spend and beginning their holiday promotions RIGH NOW.
An average of 52% of annual sales for these businesses is dependent upon the holiday season.
48% of respondents anticipate that 2016 will bring an increase in online sales.
To increase holiday sales this year, 38% of e-commerce executives plan to increase their digital marketing/advertising budget.
I encourage each of you to start thinking about your Black Friday and Holiday promotion. If you need any help coming up with an idea, creative, and online execution through social media or website, PLEASE contact Tammy Miller Design and we can help work our magic to help you Drive traffic and INCREASE sales.
Call us at 612-250-3510 or email us at tammy@tammymilerdesign.com