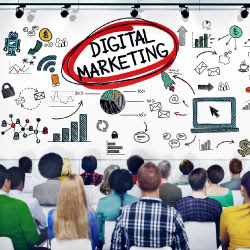 Are you geared to make the most of your 2017 marketing budget? Have you evaluated the mix of social media, email, online advertising, content creation and mobile you need to effectively reach your audience? If not, there's still time to establish or update your plan for the year. Start with a bit of education about key components to consider adding to your toolbox.
Blogs
continue to be a tremendous asset to Search Engine Optimization so long as you update them regularly. Social media marketer Tara Banda posts 30 Tips for Great Digital Marketing on ducttapemarketing.com. She recommends, "share buttons on your blog so that readers can easily post your content to their social media pages and drive visitors back to your website."
Infographics
get noticed. Social Marketing Writing's article 7 Tips for Creating Successful Infographics explains that web traffic of those publishing infographics increases an average of 12%. Work with a good graphic designer. How content looks is as important as what it contains. In fact, it might matter more - a majority of your audience might be visual learners.
Social media managers
are in demand. Get one. Social Marketing Writing's How To Become A Successful Social Media Manager explains the need: "Eighty-one percent of small and medium sized businesses are using social media and 94% of them are using it for marketing. They are so serious about social media marketing that they spent $23.68 billion on social network ads in 2015 and this spend is expected to reach $35.98 billion by 2017.
Mobility
means business. Experts at Smart Insights share Digital Marketing Trends 2016 - 2017. In addition to providing mobile-friendly sites, marketers now need to tailor a customers' experience across a variety of devices. What a user first sees on his/her smartphone might not convert to a sale until they've switched to a tablet, laptop or desktop. Learn about your customers' use of mobile devices and what their needs are. Does a distributor of tires need to order supplies for retailers as he travels from store to store or does he just check inventory then wait until he is back in the office to write up an invoice?
Content marketing
includes any kind of useful information that's intended to educate the customer rather than sell to them. Explain a topic, share research, provide background, present solutions - all based on facts. Package your content in a blog post, email, infographic, podcast, etc. Whitepapers allow the author to share expertise (at length) and provide contact information. But don't sell, just share freely.
You don't need to include every digital marketing tool in your plan. Be select and review at regular intervals to ensure your program is generating results.
How we help? Call Tammy Miller Design and schedule your free consultation and get started in 2017